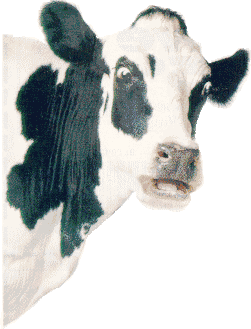 Issue # 2 !
I don't know who's more surprised about there actually being a second Issue of Cowsmopolitan - you are me. I do know who could care less though, most of you and the damn horses I had to share the pasture with lately.
Anyway, you'll notice that the layout and design didn't change at all since the last issue. That's because my computer blew up for about two months, and I don't work on Cowsmo at work, and the laptop could not handle Dreamweaver very well. So, in that time I made absolutely no progress in my Dreamweaver Bible.
Anyhow, for those that finished reading Cowsmopolitan Premier Issue, you would find this interesting I think. I hope everyone enjoys this issue more than the Premier, because this time I have Leandra to help correct all my horrible spelling misteaks and horrible grammer. That, and I could not stop laughing writing the Cover Story and the Mistress Moo column this time around. I really need professional help....
Crazy Joe