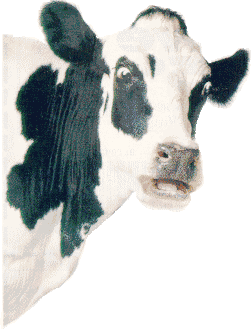 Welcome!
The Premier Online Issue of Cowsmopolitan, the first web-zine for the Bovine is online! You'll notice not everything is flashy and snazzy - kinks are being ironed out. Not only that, but the lazy staff hasn't turned in all their assignments, but you can't blame them -- after all they are just cows.
As for what seems to be the finished pages - I hope you have the sense of humor to enjoy it, since all the articles were no doubtingly written at or around 1:30am during periods of sleep deprivation and hunger pangs. If you are raising an eyebrow and questioning my mental health - then GREAT! I'm glad to have performed so well!
Bottom line - Welcome to Cowsmopolitan.com (currently residing in a subdirectory of CrazyJoe.us). Enjoy Grazing here!
- Crazy Joe